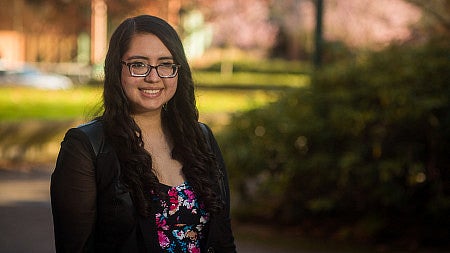 April 4, 2022
Story by Emerson Brady, CHC Communications
Dulce Castro is the one who finds the missing puzzle piece in the cushions of the sofa. As the Second-Year Advisor at Clark Honors College, Castro helps students craft the college experience they deserve, not unlike putting a big puzzle together.
"I like helping people individually by knowing that it's a part of a bigger picture," Castro said.
Castro worked for University of Oregon Office of Academic Advising for almost six years until she recently became the newest addition to the advising team at Clark Honors College. Having completed her bachelor and master's degrees at the UO, she knows this school and the students like the back of her hand.
Castro sees herself in some of the students she works with—stressed, excited, and anxious for opportunity. Born in Mexico, she spent a majority of her adolescence in a rural town in southern Oregon, and was eager find educational opportunities. 
"My high school was in a rural area and there was a limited number of opportunities for education," Castro said. "I took a sociology class my first year and I was like 'What is this?' It really pulled my interest."
Deciding to double major in sociology and Spanish, she was still unsure what her future career would look like. It wasn't until midway through her undergraduate degree when Castro's knack for problem-solving and helping others led her to realize that advising was a natural fit. After finishing her master's degree, she remained at UO where she felt she could make a difference by advising the students she knew best.
In her first year at CHC, her primary role as second-year advisor is to prepare students for their future by guiding them through an important time in their academic career, but her role goes far beyond that. She wants to to create career readiness initiatives to enable students to make informed decisions about their future. Her hope as a CHC advisor is to not only help students stay on track academically, but to also have them graduate with the skills it takes to succeed after graduation.
She's excited to work with second-year students specifically because she feels like "it's a pretty critical time in adulthood." At CHC, the sophomore year is when students start thinking about thesis possibilities and the avenues to turn their ideas into a project.
Working with honors college students, Castro says, comes with its own rewards and challenges.
"I've noticed that there's definitely a lot of stress, anxiety, high expectations, pressures, and a constant need to do more," Castro said. "And that's real, because we live in a capitalist society that expects that from a lot of people. I try to provide some perspective, like, 'How does that impact your well-being?'"
The pandemic has also brought a whole new set of obstacles for Castro and her students to overcome. The second-year students that Castro began working with this year had never set foot in a college classroom until recently, leading to a common thread of anxiety about feeling left behind. 
"I try not to sugarcoat things, but I try to provide some hope and let them know they have autonomy over their college experience," she said.
She found that one of the most pressing issues that the pandemic brought to light is inequality among students. Castro, a first-generation college student herself, knows how difficult navigating college can be. Seeing how the pandemic has exacerbated those difficulties has made her job feel that much important, and at times frustrating.
"It's hard knowing there's only so much I can do to help a student," Castro said.
She is also working with the Dreamers Working Group and Latinx Strategies Group, improving educational access and equity among undocumented and Latinx students through scholarships and providing more opportunities. She believes that social justice should be embedded in everything across campus and is grateful that her job allows her the flexibility to engage in social justice causes that ultimately impact the students she advises.
"Even if there are a few students that I advise that benefit directly from those efforts, it matters," Castro said.