The Clark Honors Introductory Program (CHIP) is a one-credit pass/no pass course that every new Clark Honors College student enrolls in fall term. CHIP is designed to welcome you, and provide you with a mentor and community to help ensure your success during your first year here.
Through CHIP you will:
Explore a shared area of intellectual interest with other students.
Build Community by connecting with fellow CHC freshmen and a returning CHC student leader.
Go on Field Trips designed to introduce you to opportunities within the Clark Honors College, at the University of Oregon, and in the broader Eugene community.
Engage for one hour, once per week with your CHIP class. Many CHIPs offer enrichment opportunities outside of class.
CHIP Is Student-Run
Returning students lead the course in concert with, and mentored by, a faculty member who supports the student leader by advising them in the craft of teaching discussion-based classes. CHIP student leaders design the courses, create the syllabi, and lead class sessions, which involve learning inside and outside of the classroom.
Apply to be a CHIP Student Leader
Some CHIP leaders ask that their students read a particular text over the summer. Students can look forward to an email from their CHIP leader by August 15th outlining any reading requirements or other expectations for the CHIP prior to New Student Orientation.
Even though the goals of all CHIPs are the same, the subjects covered are wildly different. Courses are organized around a theme or common interest, and there are several sections to choose from. Be sure to read the course descriptions before signing up so you get a CHIP that suits your interests!
Previous courses include:
---
"I've taught the music topic in the Clark Honors Introductory Program (CHIP) for the past four years. The students are always bright and involved individuals who inevitably make me glad I chose the Clark Honors College."
— Quinn Baxter, BM '14
---
Faculty Advisor
The professor assigned to your CHIP course freshman year is your formal CHC advisor. They are available to meet with you throughout the year to help you select courses that will allow you to graduate on time, connect with resources across campus, and discuss your post-graduation plans and steps you can take now to make those dreams come true. We encourage you to meet with your CHC advisor at least once a year.
Find your CHC faculty advisor »
CHIP vs. FIG
The CHIP course replaces First-Year Interest Group (FIG) courses offered through the university. As an honors college student you will not enroll in a FIG, with one exception. If you want, you can enroll in the Carnegie Global Oregon FIG. Note that Carnegie Global Oregon is a residential FIG, meaning that students are required to live with their classmates in a residence hall that is NOT the Global Scholars Hall. If you choose to join this FIG then you will not be living with other honors college students at GSH.
What is a Residential CHIP?
Residential CHIPs expand the CHIP experience by extending the CHC community beyond the classroom and into the Global Scholars Hall, where students enrolled in the Residential CHIP live and learn together as part of a close-knit, interest-based community. For residential CHIPs your CHIP student leader will also serve as the resident assistant for your hall within Global Scholars Hall.
To participate in a Residential CHIP, you should register during one of the Clark Honors College IntroDUCKtion sessions on the University of Oregon campus in July. You must also update your university housing application with preference for the Global Scholars Hall.
---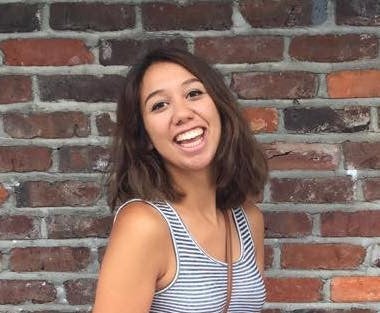 "After two years of being a CHIP leader it is incredible how much my students have impacted me, and it is incredibly rewarding to be a part of their freshman year and their introduction to the honors college. Hopefully I'll get to do it for a third time next year!"
– Mary Vertulfo, Class of 2017
---
Meet Your CHIP Directors
In addition to students leading the individual CHIP sections, students also administer the program. Our 2016 CHIP Co-Directors are responsible for providing training, communication, and ongoing support to our 16 CHIP student leaders.
Tia Monahan and Lydia Bales, Class of 2017
"I have enjoyed seeing the CHIP program from all different sides - a student, a Leader, and now Director. It not only gives freshmen a chance to learn and experience unique topics, but also assists students in their transition to the university and the honors college. CHIP creates an environment where students feel completely comfortable asking administrative and academic questions, and acts as a catalyst for building strong relationships."—Tia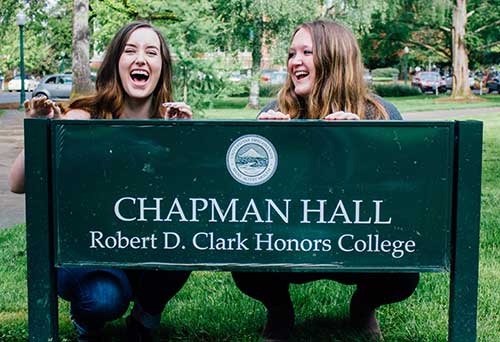 "I believe this program is really important to the success of our younger students, and provides unique leadership opportunities for older members of the honors college. I hope to provide freshmen with strong mentors and connections in the honors college to help them reach their full potential. I could not be more impressed and proud of the people I work with."—Lydia