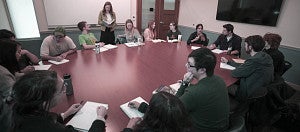 Clark Honors College
Equity, Justice, and Inclusion
Achievements and Goals
August 2021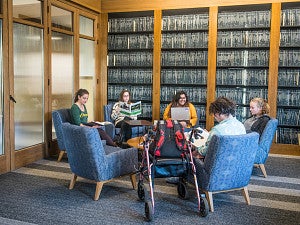 A year ago, renewed protests against racism and state violence were occurring around the United States, and the world. Portland, where many Clark Honors College students grew up and lived during the first months of the lockdown, became a front in conflicts between White nationalists and anti-racist protestors. As CHC students came to UO last fall, many had been transformed by these protests; all were eager to engage with histories of exclusion and resistance and keen to find opportunities to deepen their commitment to social justice. Clark Honors College has a unique responsibility to redouble our commitment to ensuring that equity and inclusion are at the center of all the work we do.
Over the past year, and despite the many challenges presented by the pandemic, CHC made progress on the following initiatives identified in the CHC's 2018 Diversity Action Plan:
In place of an annual discussion forum proposed in our previous DAP (made impossible by the pandemic), CHC created two series: the "Racism in America" ARC film series facilitated by Casey Shoop, ARC Director, with approximately 73 participants, and the CHC Community Book Club which examined and discussed Isabel Wilkerson's Caste and Jesmyn Ward's Men We Reaped with 43 participants.
To ensure that CHC is responsive to student needs and concerns, we created a student concerns email address. This address allowed students to communicate directly about challenges they are experiencing; last year we received concerns from 11 students, and the channel is now permanent. A campaign to publicize it more broadly will be launched on our social media platforms and newsletters in 2021-22.
As a preliminary strategy for reducing economic barriers to a CHC education, we directed gift funding to reduce differential tuition for 31 students with financial need for AY 2021-22, including first-generation and non-traditional students.
We applied our remaining IDEAL Grant to award four students funding for faculty-supervised research that supports diversity, equity, and inclusion through CHC's new Mentored Research Program (MRP). Student research projects that were funded include:

An investigation of the effectiveness of empowerment self-defense training for survivors of sexual violence
A study of the role of the police and police unions in fostering authoritarian practices of control in African American communities
A study regarding the effects of thiamine supplementation for lactating Cambodian mothers on infant socio-cognitive development
Research on texts by writers of color including IRL by Kumeyaay poet Tommy Pico, Black Movie by queer Black poet Danez Smith, and Look by Iranian-American Solmaz Sharif.
The above achievements are important steps, and helpful in refining our goals for 2021-22. Objectives in the forthcoming academic year (which will be discussed and approved by our Equity, Justice, and Inclusion Committee) are listed below. Please note that not all of these action items will be the work of EJI, but will be shared broadly across CHC.
Re-launch Equity, Justice, and Inclusion Committee to oversee this work and develop charge and plan for 2022-23; EJI will review the Vanderbilt research project regarding CHC, which highlights a number of diversity challenges identified by current students and alumni
Produce the CHC Equity, Justice, and Inclusion web page, as well as additional website improvements, including translating the Admissions page into Spanish
Add a search advocate to all search committees
Launch career instructor searches (if approved), with a focus on recruiting for diversity
Launch a visiting Virtual Faculty-in-Residence search focused on Black experiences in the US
Launch student leadership groups with the purpose of diversifying student leadership and provide leadership opportunities for students (two student leadership groups are already being formed—an LGBTQIA Leadership Group and a Personal Finance Leadership Group)
Coordinate with the FYE/ARC director on a winter term "theme" for the ARC and Peer Mentor outreach: for example, having peer mentors bring their cohorts to DEI related activities on campus; organizing an ARC related book club, and again implementing a film series; or hosting a type of "fireside chat" with faculty in CHC whose work or personal experiences and professional goals converges around these themes
Organizing CHC faculty, staff, and student participation in MLK Day of Service
Continuation of the CHC Community Book Club with Kimmerer's Braiding Sweetgrass and Estes' Our History is the Future
Plan for reducing differential tuition
Faculty/staff trainings to deepen our understanding of, and commitment to, this work
Data collection:

Review of lateral transfers in terms of diversity
Review of courses fulfilling USDIA and IP requirements to ensure our curriculum is diverse
Review of retention data to understand demographic disparities
Review of admissions data to understand historical trends
As a preliminary step toward creating and regularizing a student climate survey, coordinate with DEI about their plans for the climate survey
In addition, as pandemic limitations lift in 2022, we will explore further ways and avenues to add to our DEI goals and outcomes to build upon and strengthen our commitment to racial and social justice.