Raimy Khalife-Hamdan, a senior global studies and romance language major, was meditating by the ocean when she got a call from the Scoville Peace Fellowship saying that she had been accepted into the 2022 cohort.  
"When I got it, I remember I gasped and I felt my heart jump," Khalife-Hamdan said. "That night I was so elated, I couldn't sleep."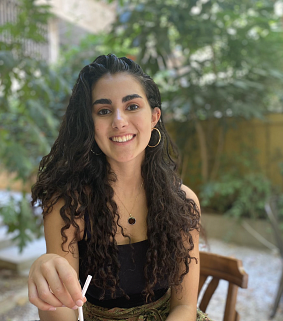 According to the Scoville Peace Fellowship website, the goal of the fellowship is "to recruit and train the next generation of policy and advocacy leaders on a range of international peace and security issues." The cohort is based in Washington D.C. and the fellows are paired with an organization to work with, along with think tank discussions.  
Khalife-Hamdan said she's looking forward to having the opportunity to talk to other people who have various perspectives than herself. In particular, she's interested in having discussions over the Iran Nuclear Deal as the Middle East is her area of research.  
"I have my perspective from a regional linguistic geographical perspective, but I don't have a really deep knowledge of nuclear issues as a whole," Khalife-Hamdan said. "Hearing from others who may not be specialists in the Middle East but might be specialists in nuclear nonproliferation stuff, it's just a really delicious experience to add news lenses to my own position now, leaving UO."  
Another part of the Scoville Peace Fellowship that Khalife-Hamdan is excited for is learning about the policy realm. As she explained, she's done a lot of ethnographic field work in the Middle East, specifically in Lebanon, and her understanding of US foreign policy comes from the ground level.  
"I understood the local manifestation but I really had no idea how to take what I had learned on the ground, taking my field work and my lived experience, and apply it to the policy realm," she said. "Policy is something I was a complete stranger to, so I want to get what is basically an education in how to advocate for a more effective policy." 
Khalife-Hamdan also said that she's excited to figure out on a personal level if D.C. will be a good fit for her, because she had previously thought she would move to the Middle East after graduation. Now, she will complete the Scoville Peace Fellowship and then plans to go to graduate school.  
"My goal is specifically to work either on the ground or in the policy realm, but looking at demilitarizing counter terrorism in the Middle East initiatives," Khalife-Hamdan said. "That's what I'll be able to explore in the Scoville but it's also so important to me."  
Throughout the application process, she said that she thinks her thesis project and past volunteer experiences helped win her a place, but that the help of her advisor Dr. Elizabeth Raisanen was also crucial to the process.  
"The whole way, I will really emphasize Dr. Raisanen, she was the person who encouraged me at every step," Khalife-Hamdan said. "Even just having encouragement, so much verbal support and emails of encouragement."  
Khalife-Hamdan said that if could offer any advice, it would be to take every opportunity seriously, not just in terms of grades, but in terms of researching something that genuinely interests you.  
"All of that builds and even if it feels scattered and disjointed, it can all come together and you can craft your own framework," she said.  
Story by Ella Norton, CHC Communications